Shareaza
2.5.3.0
Slow, steady, and rather pointless
It's the current year. Looking back in time to the first attempts at Internet peer-to-peer file sharing systems like the old Napster or eDonkey, we can only marvel at the grandiose advancement that BitTorrent represents. And using Shareaza will make you appreciate torrents even more.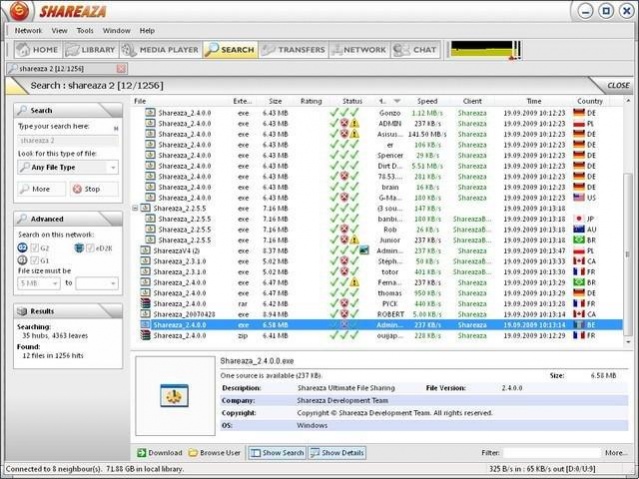 Don't get your hopes up. Shareaza is not a lightning fast BitTorrent client nor does it use a tracking service. Although advertised as using BitTorrent as part of the search algorithm, actual searches behave in such a weird way that it makes me doubt the validity of the claim. To be specific, the results show up rather late but continue to appear if you leave the search tab open. This suggests to me that Shareaza simply searches in real time through what is currently shared by the connected users. As this process is P2P exclusively, there is no index page to at least give you a hint of what might be out there. So essentially you need to check back to the search window and see whether anything is changed
One other aspect that I found rather distasteful is the default sharing settings. Shareaza assumes that your default Downloads folder is an open book. That's because the Download folder gets shared on the network by default. Without even a mention to the user.
The developers of Shareaza pride themselves in having created a completely free application without resorting to ads or inserting sneaky spyware malware. That is fine, even commendable, but I don't see the point of it. The sharing model that Shareaza uses is more suited to a local network environment, like an office building. It's a shame that you can't configure it to work in this way.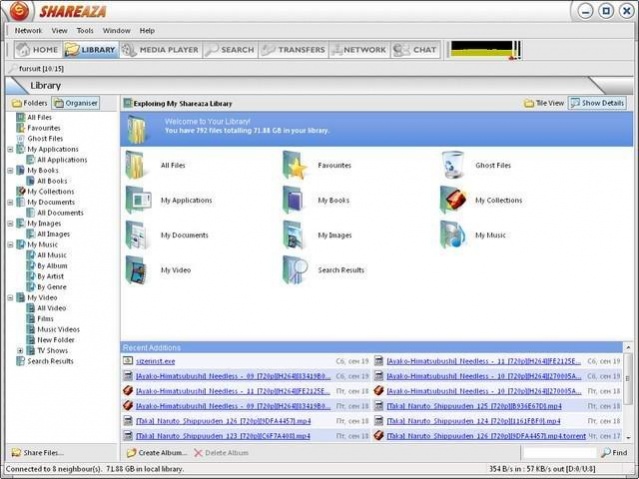 There are many other interesting features to Shareaza, like having remote access to it via a browser window, but since the main feature is essentially obsolete, why bother?
Features
Search on four P2P networks
Gnutella2 global search
File previews
Video player
BitTorrent client
Remote access (not secured)
Embedded media player
Internal chat system
Final Thoughts
As you might imagine, I cannot recommend Shareaza, unless you really have a problem with using the by now traditional BitTorrent peer-to-peer system. It does work like a torrent client though. If I had to mention on redeeming quality, I'd say that the remote access is a nifty idea. But an idea nonetheless, since the server is down.
RELATED PROGRAMS
Our Recommendations
---
---
---
---